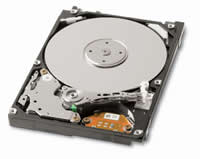 Low Cost Laptop Repair offers a professional hard drive data recovery. We recover deleted or missing data using the latest software and technology and let you have your recovered data in any format you prefer. Whether it's due to physical damage or hard drive failure, we'll do our best to recover your precious data and have a good track record of successful hard drive data recovery.
Low Cost Laptop Repair's Central London office is conveniently located in Victoria, just a short walk from the mainline train, tube station and bus terminal. We are also within easy walking distance of Westminster and St James' Park. Our offices are open Mon – Sat to deal with emergency hard drive data recovery for individuals and businesses.
Causes of data loss
With 15 years experience in hard drive data recovery Low Cost Laptop Repair's technicians have had to deal with every imaginable data loss disaster and successfully recovered data that had been lost as a result of:
Human error such as accidental deletion or formatting of hard drives
Virus, worm, Trojan or any other malicious program attack
Natural disasters such as water, moisture, fire or heat
Electrical surge/outages
Failed booting process
Equipment malfunction
Static electricity
Malicious attack and vandalism.
PC data recovery
If your business premises have suffered from some natural disaster such as fire or flood which has damaged your computers, your business could be at risk. With no access to customer and supplier database, HR records, sales orders, etc your business can no longer operate and will grind to a halt unless you can recover the data. At Low Cost Laptop Repair we understand how important business data is. Our hard drive data recovery technicians will do their best to retrieve your data and get you up and running in a day or two.
If your home computer has crashed and you are worried about losing your precious photographs of children and holidays or records relating to personal finances, don't panic. We are also able to offer a hard drive data recovery service for private homes and can retrieve digital photos and other personal information at an affordable price.
Laptop data recovery
Many business and professional people these days rely on the information stored on their laptops to perform their work. The fact that laptops are carried around everywhere makes them prone to accidents which not only damage the hardware but can cause data loss. If you dropped your laptop or spilled a drink on it and it no longer works, no problem. Our laptop data recovery can recover the data from your damaged laptop and even transfer it to a new hard disk for you.
RAID data recovery
Low Cost Laptop Repair data recovery specialists can provide full RAID data recovery services for RAID disks from leading manufactures using any Windows version and other major operating systems.
Apple Mac data recovery
We also provide Apple Mac data recovery services to recover data from Mac desktops and notebooks running Mac operating systems and HFS and HFS+ file systems. Our professional hard drive data recovery services are used by graphic designers, interior designers and others who rely on us to retrieve details of clients, projects and artwork from their damaged Apple Macs.